Topics:
Never Miss a Beat - Get Updates Direct to Your Inbox
4 Ways to Scale Your Business Acquisition into a Formidable Brand
By Quiet Light
|
Reading Time:
12
minutes
The day you acquire a business is an exciting one. But what happens the next day, when you're expected to steer that business towards greatness? If you don't pace your financing or your energy, that new, shiny business could go down the drain. Business buyers have to do a lot of planning to make the transition as seamless as possible. Learn how tech pro Richard Bell bought an online business and grew it into a formidable brand—in just over a year. 
Going The SBA Route Without The Frostbite
4 Changes that Helped Richard Scale
The day you acquire a business is an exciting one. But what happens the next day, when you're expected to steer that business towards greatness? If you don't pace your financing or your energy, that new, shiny business could go down the drain. Business buyers have to do a lot of planning to make the transition as seamless as possible. Learn how tech pro Richard Bell bought an online business and grew it into a formidable brand—in just over a year.
Nothing in business comes easy. In fact, it's safe to say that buying and growing a business is a little like climbing Mount Everest. You pay a boatload of money just to get to the mountain, and at that point, you're expected to spend more money on gear and weeks of time climbing.
It's not much different when you buy an online business. You spend weeks of time and thousands of dollars just buying the business. But then what happens? Your climb begins!
Many buyers are so preoccupied with buying that they forget they'll need to grow the business once they have the keys. Where do you go from there? Instead of trying to climb a formidable mountain in your Chacos, have a plan to scale your business (AKA your mountain) once the sale goes through.
In mountaineering terms, you need a sherpa, oxygen tank, and a lot of layers to make it to the top. Of course, the stakes are a little lower in business than, say, an icy trek. You aren't going to lose a toe bootstrapping your business.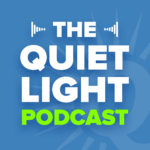 Listen to the Source of this Post:
This blog post is based on a podcast episode that we recently recorded. Listen to the full episode here:
But still, you need bright ideas and capital that will help you reach the summit before winter hits. You have to plan your growth strategy way in advance of buying a business if you want to get a return on your investment.
Not sure how to do that? No worries. When Quiet Light client Richard Bell bought his business, he faced a hefty pile of problems. Instead of taking the easy route, he went all-in, experiencing crazy amounts of growth on a business he's had for barely a year.
Richard's Story
Like most entrepreneurs, Richard's professional experience is a mosaic of job titles. He worked at one huge tech company where he held jobs in sales, product development, and marketing. Richard's bread and butter was in mergers and acquisitions, where he was no stranger to nine-figure (yes, nine) deals. "I've done a variety of roles. I think that's what set me up well to own a business," he says.
Thanks to his high-powered career in the corporate sector, Richard got to work on all kinds of strategic issues inside an enterprise-level business. It prepared him well for running a small business, which was his real goal: to work for himself.
Richard knew he wanted to acquire a business; he had the motivation and the capital to make it happen. He had been shopping for half a year by the time he connected with Quiet Light. By that point, he'd been through the wringer: bad business listings, shady brokers, you name it. "I wasn't sure how to go about buying a smaller business," Richard admits. But that was good, because Richard quickly learned what to avoid. He also learned how to spot a good deal.
Now, the small business world was an adjustment for Richard. He was used to climbing Everest every day, while these businesses were the equivalent of a rocky foothill. After doing his homework, Richard learned how to separate hype-laden business listings with the real deal. "There's a lot of brokers out there who are just putting out a listing for anything. You have to learn what's meaningful," he says.
After some digging, Quiet Light connected Richard with the perfect fit. It was a brand called Yugster, and it hadn't even hit the market yet.
Finding The Right Fit
Yugster had been doing drop-shipping since day one. Although it had a cult-like customer base, the site was dated and full of bugs. The biz earned 8 figures a year, but it was on the decline. Where other people saw a dilapidated business that required too much capital, Richard saw an opportunity. He knew he could inject more life into the brand.
That isn't to say you need to buy an online business that's old and on the decline, of course. Yugster worked for Richard because:
It wasn't an Amazon business: There's nothing wrong with an Amazon FBA business, but it's not something Richard wanted to mess with. Yugster was earning 8 figures sans a platform.
Yugster had sizable vendor relationships and a staff of experienced, capable employees.
The brand had been around since 2005, so it had a proven market and longevity.
If Richard had to climb a mountain, he knew this was the one for him. He jumped on Yugster and began the buying process. "The strong customer base and the established staff made it a no-brainer for me," Richard says.
Going The SBA Route Without The Frostbite
You hear horror stories about people who get frostbite (or worse) when they try to climb in extreme environments like Mount Everest. While business financing isn't as extreme, it's still fraught with danger.
Now, when you're scaling a mountain, there are usually a few routes to choose from. You can take the well-trodden and safer path, the less-known but potentially shorter path, or blaze a trail all your own. Richard did the third option, and he recommends other buyers follow suit.
Richard's deal structure was unusual because he started off as a cash buyer. He didn't have quite enough cash to buy the business 100%, though. What he decided to do was put down a larger down payment and finance the rest with an SBA loan. "I did 40% cash down and 60% finance," Richard says.
But why would he do that? Why not pay for, say, 80% of the cost of the business and finance a smaller portion? It comes down to longevity and flexibility.
Remember, it costs a lot of money just to get to Everest. You need to have energy and money to actually climb the mountain. That was Richard's strategy, and it paid off big time.
Instead of pumping all of his cash into acquiring the business, he set aside a big chunk that would enable him to improve the business. Otherwise, he would be the owner of a very expensive asset that he couldn't fix. "Don't squeeze yourself so tight that you don't have the capital to invest. Make sure you have a cushion," Richard warns
The Double-Edged Sword Of SBA
SBA is a great option when you buy an online business. However, you need to be educated about its benefits and risks. The issue is that, if anything goes remotely wrong with your SBA financing, it can sour your deal.
In an ideal world, you could put only 10% down on the business and finance the remaining 90% with SBA. But that's ideal. If the valuation isn't high enough or there's more inventory than you anticipated, the SBA loan can't account for those things, leaving you high and dry. "It doesn't matter how good you are at due diligence. Any business you buy is going to have surprises," Richard says.
With that said, SBA has plenty of advantages, too! It enables you to buy a biz when you don't have quite enough capital to buy it outright. Financing makes the world go 'round, after all.
So, where does this leave you? If you want to buy an online business, you need to be smart with your cash. Don't go full-bore with expenses before you even own a business. Rethink your financing to get the most out of a new business.
Richard's Two Tips For Making The Most Of SBA
By the way, Quiet Light didn't hear a peep from SBA about Richard's financing. That's super weird, folks. Normally SBA wants to chat with the broker about something. Richard's financing paperwork was so pristine that SBA didn't make a huge fuss. If you're thinking about SBA paperwork, follow Richard's two tips for doing SBA without the frostbite.
1. Clean House
"The advice I'd give anyone considering buying a business is: Get your house in order," Richard says. His advice is going to sound eerily similar to something Quiet Light has been preaching about for years. He says that buyers need to get their finances in order before they even think about buying a business or pursuing SBA financing.
Richard credits the smooth SBA process to having his personal finances in order. His credit score was immaculate and there was nothing weird that would set off alarm bells for the lenders.
But the bank needs more than a good credit score. It needs to know that you aren't going to fall off the side of the mountain. That's why Richard recommends writing a detailed business plan. "It's got to show the bank that you know how to run a business," he says.
Demonstrate how previous ventures succeeded, and in what timeframe. Use this as an entrepreneurial resume, showing off your business prowess to the bank. This will make it easier for SBA to fork over the cash because they know they can trust you.
2. Don't Fall For The 10% Trap
If everyone telling you, "You only have to put 10% down! What a steal!" they aren't your friends, and you should ignore them. Richard says buyers need to balance down payments with liquid cash.
If you only put down that 10%, you're on the bleeding edge (as Richard calls it). The financing terms just aren't going to be that great. But if you pay 100% cash and deplete all of your reserves, you won't have enough capital to invest in the business. Again, use your money wisely. Treat financing as the tool that it is, and not a free-for-all.
4 Changes That Helped Richard Scale
Okay, so you've finally arrived at the base of Mount Everest. Now it's time to begin your climb. While everyone's journey up the mountain will be different, we can still learn from the people that have gone before us. See how Richard changed Yugster in 4 ways to see better growth.
1. Change The Product Mix, Change The Audience
Yugster was a daily deal website focused around technology. The brand resold technology that was 2-3 years old at a steep discount to consumers who didn't need the latest and greatest gadgets.
When Richard first acquired the business, around 80% of the client base was male. The site design and functionality also limited the audience for the brand. But Richard knew if he could make Yugster more appealing, he could broaden his audience, increasing revenue.
The first thing Richard did was change the product mix. He added home goods and appliances, like vacuums and coffee makers, to Yugster's list of offerings. Female shoppers gravitated to those items, and this switch gave Richard a more even 50-50 split between male and female shoppers.
By upgrading his website (which we'll dive into in a sec), Richard was also able to secure more business customers. While Yugster had a few one-off business orders, now the brand is starting to see orders from schools and businesses.
Look at Richard's example and brainstorm where you can expand your business. If you've pigeonholed yourself into a certain demographic, how can you widen your focus? I bet there's something you can change to broaden your audience and bring in more cash.
2. Staff Restructuring
In business parlance, "restructuring" is usually a polite word for "fire everyone and start over." But that's not what Richard did. The high-quality employees were the reason Richard bought Yugster in the first place.
"One of the first things we did was internal restructuring," Richard says. At the time of acquisition, Yugster had 9 employees based out of Salt Lake City. After crunching the numbers, Richard realized it made zero sense to maintain a physical office for these employees. He shuttered the office and instead offered remote packages to the employees—and they heartily accepted.
But it's not enough to go remote. For successful restructuring, Richard also recommends you:
Manage your remote employees: Have regular calls, chats, and emails. Stay in constant communication to keep the team accountable.
Clarify job roles: Yugster's staff had a lot of overlap in their job descriptions. Richard cleaned up everyone's job description and gave them clear roles. This eliminated messy miscommunication and rework.
Focus on retention: You don't want to take a scorched earth approach here. Instead of driving away your new employees, nurture them. Have a retention strategy in place, because these existing employees know a lot more about the business at this point than you do.
A year later, Richard's been able to retain 80% of the original workers (a few decided it wasn't for them and they left). That's a pretty good retention rate for a complete corporate 180.
3. Total Rebrand Of The Site
At this point, Richard was just getting started. He knew the Yugster brand was a little dated and the site was so-so. He knew the branding was limiting their audience, and that's why he decided to completely overhaul the brand, transforming it into UntilGone.
The good news was that Yugster already had a huge following. So Richard knew he was onto something. He sat down with his employees to strategize the brand. Although customers loved the Yugster brand (and "YUG" points), the team realized the concept just couldn't grow. That's when they bought the domain for UntilGone.
The new website went live on September 1, 2019. While some customers didn't continue shopping with UntilGone, most did. And boy, did the rebrand pay off. "We've been able to do things that we weren't able to do previously," Richard says.
After polishing the new site, sales surged from September 1 onward. Thanks to a better look and feel and improved UI, UntilGone could appeal to a much larger audience, becoming more competitive in the daily deal space.
If you buy an online business, you have complete license to change the biz. If the branding doesn't work for the market, don't be afraid to change. You'll have to adjust to keep up with the times, and that's essential for building a brand that doesn't quit.
4. 100% New Tech Stack
Richard's biggest challenge with Yugster wasn't the restructuring or rebrand: it was the backend of the site. After looking over the website, Richard realized it wasn't up to snuff. The technology stack was too clunky to scale. Richard couldn't use APIs on the site as it was, which meant everything would be slow and painful, like climbing a mountain in high heels.
Although he thought the tech overhaul would be more of a 2019 project, he realized how important the issues were and had to start in 2018. From July – September 2019, he was totally engrossed in coding the new site. "I wrote more code in those two months than I had in the previous 10 years," he laughs.
Richard tapped a company in Seattle to help overhaul UntilGone's tech stack. The site was now able to use APIs, work through Shopify, and give his team more back-end control. These changes were critical to allow UntilGone to work as the marketplace that it needed to become. The site isn't perfect, but it's a lot better today than it was when Richard bought it in 2018.
Why Shopify?
Are you also considering selling products through your own website instead of, say, Amazon? Richard looked at many platforms before choosing Shopify, including Big Commerce and Magenta. He went with Shopify largely because one of UntilGone's partners preferred working in Shopify.
But keep in mind that there are pros and cons to working inside platforms like Shopify.
On the upside, Shopify comes with plenty of integrations, like Apple Pay and Facebook, that you can turn on and start using almost immediately. "There's a lot of functionality built into the platform, so you don't have to tweak or customize," Richard says. However, you still don't have total control over the platform. If you want a super custom site, you might save more time and money just coding it yourself.
Don't Wait To Climb
A lot of people say they want to climb Mount Everest before they die. But life gets in the way. There isn't enough money, time, or energy to make it happen. And what does that mean? You never climb Everest.
If you want to buy an online business, don't put it off. Do it now while you have the passion, youth, and drive to make things happen. Don't look back and wish you had climbed your own personal Everest. Life's too short not to take calculated risks.
Make a plan right now to buy your next business. Be smart about your financing, expand your product offering, restructure as necessary, embrace a new brand, and don't be afraid of new technology.
Sure, it's work, but nothing good in life comes for free.
Richard jumped from the safety of the corporate world and used the lessons he learned there to succeed as an entrepreneur. "Owning your own business and running your own destiny is fantastic," he says. No matter your background or experience, you've got the chops to be a business owner.
Now, are you ready to plant your flag at the top of the mountain?