Topics:
Never Miss a Beat - Get Updates Direct to Your Inbox
Why Old-School Television Could Be a Perfect Fit for Amazon FBA
By Quiet Light
|
Reading Time:
10
minutes
This week we're asking – What is the opportunity of multi-channel marketing for Amazon FBA? How do traditional offline marketing methods translate to the Amazon model right now? What's the potential revenue lift? And could direct-response television pay off for your business? John Santilli has the answers, and shares the method he uses to test the waters for Amazon products and identify those that could have explosive success with television.

Chinese tech entrepreneurs and investors travel in private planes to the Nevada desert to attend Burning Man for the first time in high style.
Vinyl record manufacturing comes to Chicago but with an ecomm twist.
Electronic musician, Pretty Lights, remixes John Denver's Country Roads.
Martha Stewart and Snoop Dogg reenact an iconic scene from Titanic on the promo for their Potluck Party Challenge.
Whenever new meets old, or old school meets new, interesting things are bound to happen.
Case in point – last week Mark caught up with John Santilli of the newly formed Star Logic Marketing to talk about possible applications of old-school direct-response television advertising, DRTV, to the current Amazon ecosystem.
As well as the application of other traditional offline marketing channels to diversify a company's customer acquisition strategy.
As we like to remind you at Quiet Light, "diversify" becomes a key word when it comes to attracting buyers or adding to the overall value of your business.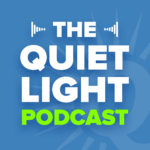 Listen to the Source of this Post:
This blog post is based on a podcast episode that we recently recorded. Listen to the full episode here:
Santilli puts the "multi-channel" in multi-channel marketing with experience from every corner of the marketing world, both old and new.
He describes the bulk of it as revolving around the areas of direct response, direct mail, and the in-house production of tv commercials.
Commercials, I might add, which generated over $250MM in revenues.
In much of his work in direct response marketing, John explains, the goal was to identify those "under-marketed products or new inventions" which had mass-market appeal and were well-suited for retail.
He refers to them as "As-Seen-on-TV" products.
How did he meet that goal and find those products in the rapidly changing environment of retail where purchasing behaviors keep evolving by the day?
With an algorithm – one that sounds like the perfect marriage of digital-world data analysis/performance metrics with traditional mass media/brand awareness. (more on that algorithm below)
But is multi-channel marketing for Amazon FBA even necessary if you have a winning product?
Can traditional channels such as infomercials really boost online sales right now?
John says they can, and that multi-channel marketing could be an explosive opportunity for the right Amazon business.
In this post, I'll dig into that assertion a bit to find out what type of marketing strategy he recommends, how it incorporates old-school media, and how he would apply it to an Amazon FBA business.
What's going on with DRTV right now?
John describes the common DRTV model from his 20 years in the industry this way:
Find the under-marketed or brand-new products.
Test the mass-market appeal of the products.
For the products that passed the test, joint venture with a partner to push them into retail using commercial television spots.
He explains that at first the DRTV market was "the first to market goods and services direct-to-consumer," bypassing retail altogether. And it was a profit channel in and of itself.
[[[Quote from podcast: Our job was to really find, filter, and flip products.]]]
Then it evolved into a channel to affect consumer behavior by enticing customers to physically go into retail stores and make the purchase there.
These days, in an increasingly internet-based economy, the model has evolved again and morphed into a channel with the primary goal of influencing online behavior and boosting online sales.
When you talk about multi-channel marketing for Amazon FBA, it could be a powerful new channel.
Consider today's consumer – we watch television with phone in hand or even view from our phones where the Amazon app lives.
It makes perfect sense for Amazon sellers to pay attention to this traditional medium.
What do you need to know about DRTV?
It's measurable:
The medium allows a physical-products company to connect with customers directly, using coupon codes and other measures that allow for quick feedback and easy ROI decisions.
It's symbiotic with online marketing:
With the methods that John describes, you're able to quickly test many of the elements of your creative and messaging online and refine them before committing ad spend to television.
It facilitates multiple impressions or points of contact:
As always when influencing consumer behavior, you need multiple touch points. And television excels in this area.
It's still mass media at its finest:
According to Neilson, "Overall total media use among U.S. adults remains unchanged year-over-year at 10-and-a-half hours per day."
And although where we spend those hours continues to shift, as of Q3 2018, adults in the US over 18 were still spending 40% of that time on live and time-shifted television.
Surprising.
It's changed a great deal:
Years ago, John says, as viewers responded to a tv spot and took action, about 10% of them would order online.
Today you can expect more like 50-70% of the action-takers to turn to the web…and many of those will order from their phones.
It's wildly different from online marketing:
When you think multi-channel marketing for Amazon FBA, you might think Adwords and Facebook, so DRTV represents a different way of thinking.
For starters, audiences aren't segmented and targeted in the same way.
While the name of the game in Facebook advertising, for instance, is granular detail around audience targeting…
Products that take off in the television market, I'm guessing, need to appeal to a wide variety of people.
How effective is DRTV at boosting online sales?
John has seen massive results after opening up the DRTV channel for an online product.
Of course, with massive results would come massive inventory demand, so lining up working capital would be a key part of the picture.
The window of time for capitalizing on these results from a campaign, according to John, is typically about 18 months in the industry.
And he's seen revenues generated between $6-20MM during that time.
With the right product, and the right access to inventory, he says, several million in revenue from a campaign would be a reasonable expectation
On revenues and contracts
Back in the 90's, when mass media ruled, make-up artist Victoria Jackson joined up with American Telecast to produce infomercials for her cosmetics line. Together they generated over $200MM in sales.
From day one of airing the commercials, 10,000 orders rolled in via a 1-800 number each week. American Telecast then sent direct-mail catalogs to retarget customers, upsell, and cross-sell.
It was a lucrative model, but as it turned out, entertainment-industry accounting and contracts common to the industry were no friend to Jackson. The contract she signed offered her an "adjusted gross."
Basically, American Telecast paid for the R&D of the product, the manufacturing costs, and the tv air time. They invested $30MM over 3 years. In return for being the face of the brand, Jackson stood to earn 10% of the adjusted gross profit.
Predictably, the returns never showed any adjusted profit, so for years she was earning 10% of zero until she renegotiated for 2% of gross revenues. Old-school lesson learned.
How do you best test the market for your products?
Once you decide to branch out with multi-channel marketing for an Amazon FBA business, how do you know if your products fit the channel?
John talks about "filtering" products to test their suitability for the television medium.
What does that look like exactly? What's the Santilli method, as I'm calling it?
First of all, he knows broadly what factors cause people to buy after viewing a spot on tv. A product needs to be:
Unique (never seen before helps)
Of high quality
At the right price point
The algorithm he uses has two stages.
Stage one:
This is a survey process that asks a series of questions over time and seeks to discover whether a product appeals to a large enough segment of the mass market using benchmarks.
Stage two:
If a product passes through stage one, the next step is to develop short teaser videos online paired with a streamlined no-nonsense order page.
These can be sent to a list via email blast. Then data is collected on metrics such as conversions, click-through-rates, and average order amounts, and measured against established benchmarks once again.
Products which pass the benchmarks in both stages indicate readiness to begin television production.
This method, John says, "puts a little science next to the art of just putting something on tv." The latter he calls, "the spray and pray" approach.
It's the type of approach that's thankfully a thing of the past when you take on multi-channel marketing for Amazon FBA.
John's systematic performance-based approach allows him to take an Amazon product, compare it to the benchmarks, and determine the potential impact on revenues and growth if you take it to the tv market.
And determine if it would be worth it to take to retail.
Isn't your Amazon data enough?
Mark asked this important question on the podcast last week…
If a product has seen massive success on Amazon, with tons of reviews and great ratings, couldn't it by-pass that testing process and go straight to DRTV marketing?
Not necessarily, says John.
Some success stories on Amazon won't translate easily to television.
John points out that being first to market on Amazon in a category or with a particular product often drives success on the platform.
He gives the example of marshmallow sticks which generated $.5MM in revenue for the lucky soul who pioneered it on Amazon.
That success wouldn't translate to television at this point, and a DRTV campaign probably wouldn't generate the desired ROI.
So, to identify an opportunity with television, John's algorithm makes terrific sense.
Are some products better suited to online marketing than offline?
Do some products just belong online?
John says yes.
"I think that all products have a home," he says, "it's just a matter of – how big is that home?"
Again, television requires broad appeal.
And factoring in the unpredictable human-behavior aspect, sometimes the testing brings unexpected results…
John has seen products that didn't meet the metrics to push into retail via television when priced at $10. The same products went on to show great success when redirected online, however, at the much higher $19.99 price point.
More evidence that the Santilli method can reveal your best opportunity, whatever that channel may be.
The key is to open up to new channels if you're currently limiting your budget to Amazon spend. Branching out could pay off big with the right product.
If revenues have reached a plateau, multi-channel marketing for Amazon FBA creates the opportunity to scale up to that next level – boosting revenues, but also boosting the value of the business as a whole.
The Amazon problem and the Amazon opportunity
Initially, Amazon posed a problem for the DRTV industry.
Again, the window of time for a television campaign can be relatively short and the results can be dramatic.
Campaigns involved spending $2MM on television ads in a short period of time, for example, and then importing .5MM units from overseas to keep up with demand.
With retail arbitrage going on behind the scenes online, though, international competitors working on Amazon could track that activity and respond quickly.
This meant inferior products, or sometimes your exact product, showing up on Amazon right away at cheaper prices once you'd basically done the legwork and all the advertising for them.
And it meant losses on every dollar spent on advertising.
This changed the way the DRTV industry did business and forced them to take on a more holistic approach.
Rather than thinking in terms of television to retail, they began thinking about television's effect on online behavior and driving that behavior deliberately.
It moved traditional retail a bit more to the periphery, but not out of the picture entirely.
The new DRTV approach looks for the right markets to match the product with consumer behavior and drives that behavior accordingly.
And those changes spell opportunity today for Amazon sellers.
If you're spending most of your marketing budget within the confines of Amazon right now, or even within the confines of the online environment, it's worth giving television a look.
It's a way to stay ahead of the competitive curve.
It's a way to differentiate your company from other Amazon FBA companies as you plan for an exit down the road.
And it's a way to boost the value of your business and command higher multiples at the time of a sale.
How long does it take to test the waters for your product or line of products?
John says 1-2 months to gather data and determine if the product meets the required benchmarks, then another 2-3 months to develop your tv commercial and actually get on the air.
With all the push towards the next new thing in marketing, it just might be time to stop barreling forward in ecommerce and take a look back.
"We've completely bypassed a lot of these channels that were built up over decades," Mark points out. Maybe it's time to rethink.
You don't have to be a television personality, of course.
Although putting yourself front and center, like the George Foreman's of the past, and stepping up to be the face of your business can be a bold move.
Ask yourself, What Would Richard Branson Do?
When we launched Virgin Atlantic, we didn't have the budget to take on British Airways' marketing campaigns. Luckily my mentor at the time, Sir Freddie Laker, gave me some very valuable guidance, "Use yourself. Make a fool of yourself. Otherwise you won't survive," he said. I took on his advice and put myself front and centre of the brand – giving Virgin a personality that British Airways didn't have.
Question answered. He'd use what he had, and try something new, no matter how crazy it might seem.
He'd put aside his ego, have a little fun, and step up for his business, differentiating it in the process from a powerful competitor.
We should all be so foolish.
If you've discounted television and become content staying in one place with your marketing, it may be time to try something new, open your mind to new markets, and explore television as an option.
Snoop Dogg, an old-school original, will back me up on this… "You've got to always go back in time if you want to move forward," he says.
Sage advice from someone who's proved pretty successful at keeping his mind on his money and his money on his mind.